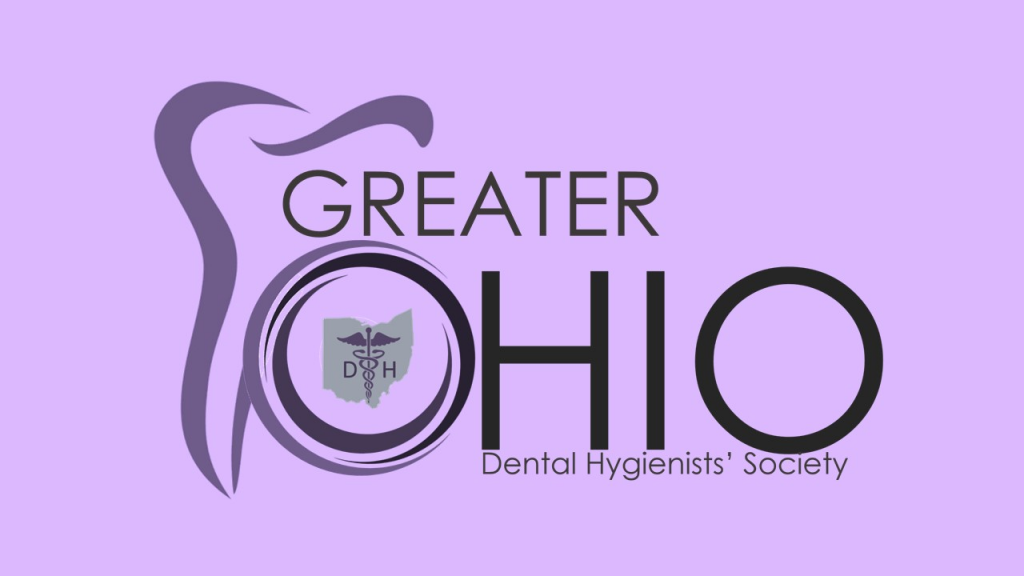 "Greetings" from The Greater Ohio Dental Hygienists' Society (GODHS) in Columbus, Ohio.  We are proud to have received Component status as a 2017 Charter Organization of the National Dental Hygienist' Association (NDHA).  Our members are united through a common interest in encouraging minority representation in the profession we love.  We are committed to addressing oral health concerns of the underserved population in our communities and promoting professional relationships throughout Ohio.
We, The Greater Ohio Dental Hygienists' Society (GODHS), are dedicated to encouraging Minority interest in the Dental Hygiene Profession by promoting positive professional, social and community relationships.  We are dually committed to addressing the needs and concerns of the minority dental hygienist, underrepresented dental hygiene student, and the oral health of underserved communities throughout Ohio.
In 1932, the National Dental Hygienists' Association (NDHA) was founded by African American Dental Hygienists to address the special problems faced by the minority hygienist in the profession as well as unite the limited number of minority dental hygiene practitioners in the United States.  It functioned for three years under founder Ernestine P. Gates of Missouri.
READ MORE
In the Spring of 1962, Dr. James B. Singleton, Dr. Eugene Mobley and Barbara Ashby Robinson of Meharry Medical College contacted all of the African American Dental Hygienists known to them and invited them to meet in Detroit, Michigan for the purpose of reactivating the organization.  During the 1962 National Dental Association (NDA) convention, the NDHA reactivated and implemented a restructuring initiative designed to enhance the visibility of the association.  In 1963, the NDHA elected its first President;  Barbara Ashby Robinson.  The NDHA joined the NDA in holding concurrent annual conventions.  While the NDHA and the NDA still hold their functions jointly, the NDHA functions as a autonomous organization.  Today, the NDHA is a 501c(3) non-profit organization designed to improve the dental health of the public through education and service.  The NDHA board is comprised of five officers and five trustees who are elected by the ever growing general membership body.  NDHA is proud to have Component Organizations functioning as official affiliated professional organizations.
The Greater Ohio Dental Hygienists' Society (GODHS) is a component organization recognized by the National Dental Hygienists' Association (NDHA) as an extension and integral part of the Association.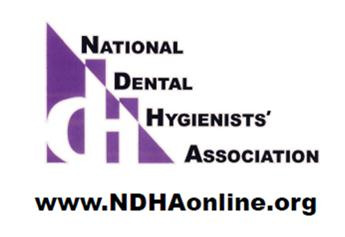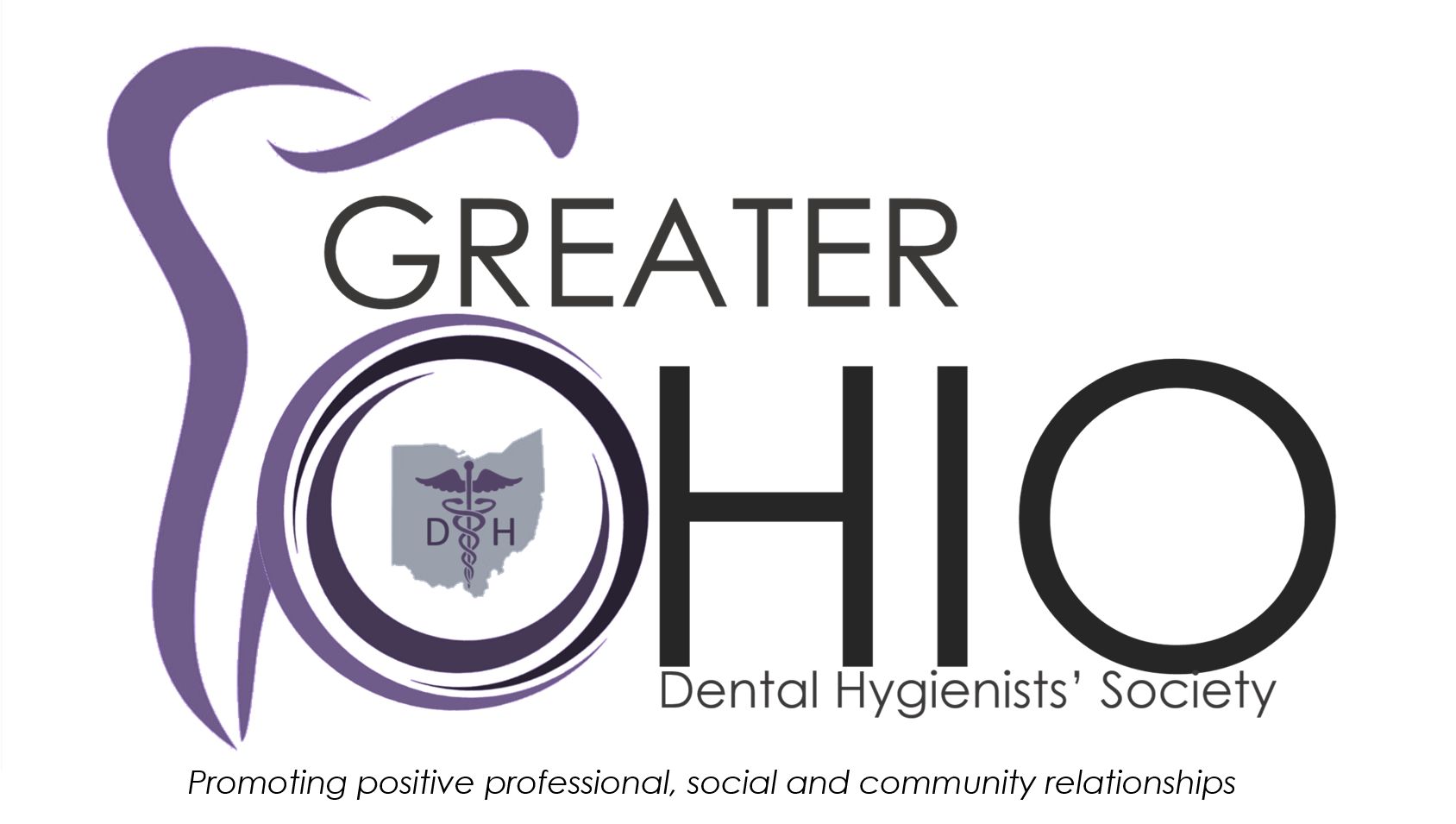 AMY PORTER (President & Founder)
READ BIO
Amy is a graduate of The Ohio State University College Of Dentistry Dental Hygiene Program in combination with majoring in Clinical Counseling Psychology through the College of Arts and Science.  She also obtained her Health Education K-12 degree from Central State University with academic honors.
Amy has thirty years of clinical hygiene experience and demonstrates a great passion for the profession through advocacy, leadership, and promoting good oral health in the workplace and throughout the Ohio community.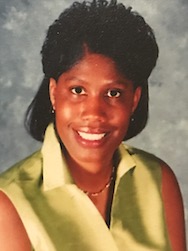 MICHELL J. IVORY (Vice President)
READ BIO
Michell has been in the dental field for over 30 years.  She has currently been working for a dentist in Reynoldsburg, Ohio for over 16 years.  Michell also is an instructor over Dental Hygiene Students at Columbus State Community College in pediatrics.
Michell is also active in her church and community with the EUMBA Health and Wellness Ministry, where she serves as the recording secretary.  She also proudly served in the United States Army Reserves for 8 years in the 847th Personnel Service Battalion.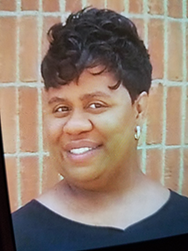 READ BIO
Ebony is a dental hygienist and an educator.   She has been a hygienist for 16 years. For her education, she has obtained an Associate's Degree in Applied Science, Dental Hygiene (Lima Technical College/Rhodes State College) as well as a Bachelor's Degree in Biology (University of Cincinnati) and a Master's Degree in Career and Technical Education and Workforce Development (The Ohio State University).
Ebony really enjoys teaching and takes great pleasure in caring for patients in the dental office as a clinical hygienist. Ebony is very proud to be a part of the National Dental Hygienists Association and serving as secretary of the Greater Ohio Dental Hygienists' Society. Ebony states that "this position allows me the opportunity to work in the community to increase oral health awareness and help make the connection between the health of the body and the health of the mouth."
Ebony is a wife, mother of two children and very involved in church and community activities.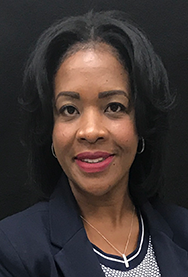 TONIA L. TOLBERT MOORE (Treasurer)
READ BIO
Tonia has served in the United States Navy, and is a Persian Gulf War Veteran.  She is an Implant Hygienist and is currently employed at The Ohio State University Advanced Prosthodontics/Implant Clinic.
Tonia has provided over 25 years of exemplary care to patients in the dental field.
Tonia resides in Hilliard, Ohio.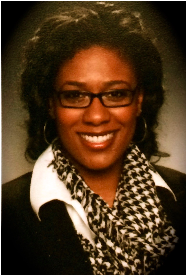 KARMEIL M. STEPTER (Parliamentarian)
READ BIO
Karmeil is from Columbus, Ohio.  She studied Allied Health Management, along with Respiratory Therapy at Shawnee State University.  She later followed her passion in pursuing her life long dream of becoming a Registered Dental Hygienist and attain her Masters in Dental Hygiene Education at "The Ohio State University".  Her zeal for education and making each person have a brighter and healthy smile was her driving force to follow her dream by impacting "one smile at a time". 
In her free time she loves to have time for family, friends, be with her dog, and try new things.  She is an ambitious, energetic, positive, and hard working person who loves helping others.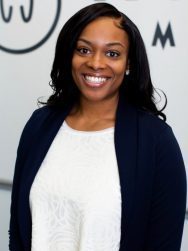 CIERA LOCKE (Media Technician)
READ BIO
Ciera Locke is a graduate from Shawnee State University with a Bachelor's degree in Health Management and an Associate of Applied Science in Dental Hygiene.
Ciera resides in Reynoldsburg, Ohio with her parents and little sister. She enjoys traveling to new places, shopping and spending quality time with family and friends.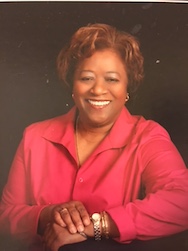 READ BIO
Dawn is an accomplished and dedicated Dental Hygienist. She has 34 years of exceptional clinical skills and expertise in educating a variety of patients on the importance of good oral health.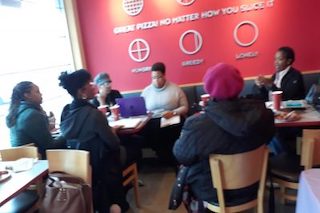 Why Join?
Excellent Networking Opportunities
Professional Contacts
Development of New Friendships among Colleagues
Part-time / Full-time job opportunities are shared among members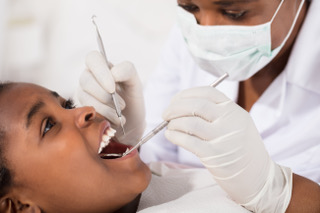 Professional Growth
Continuing Education
Leadership Development Programs
Community Outreach / Volunteer Opportunity
Informative Newsletters of Organization Activities & Legislative Updates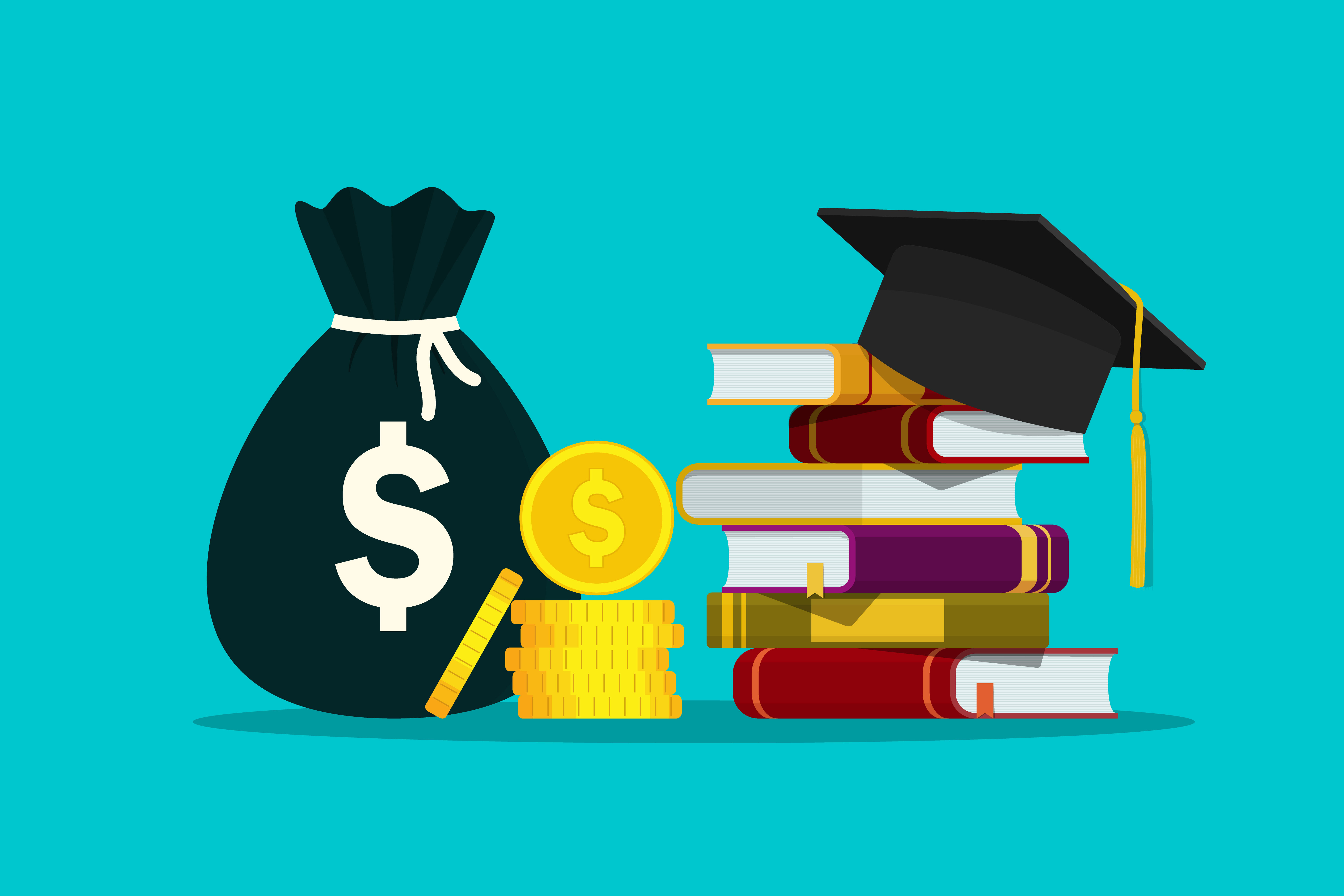 Scholarships
Your valued Membership supports funding of Annual Scholarships given to minority undergraduate dental hygiene students and graduate dental hygiene members continuing their professional education.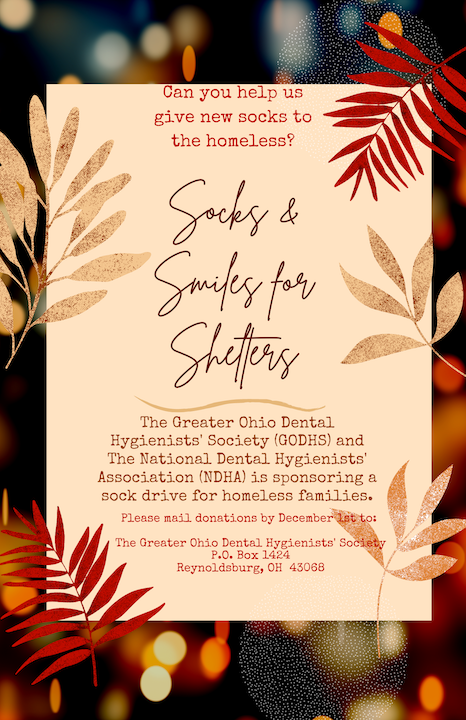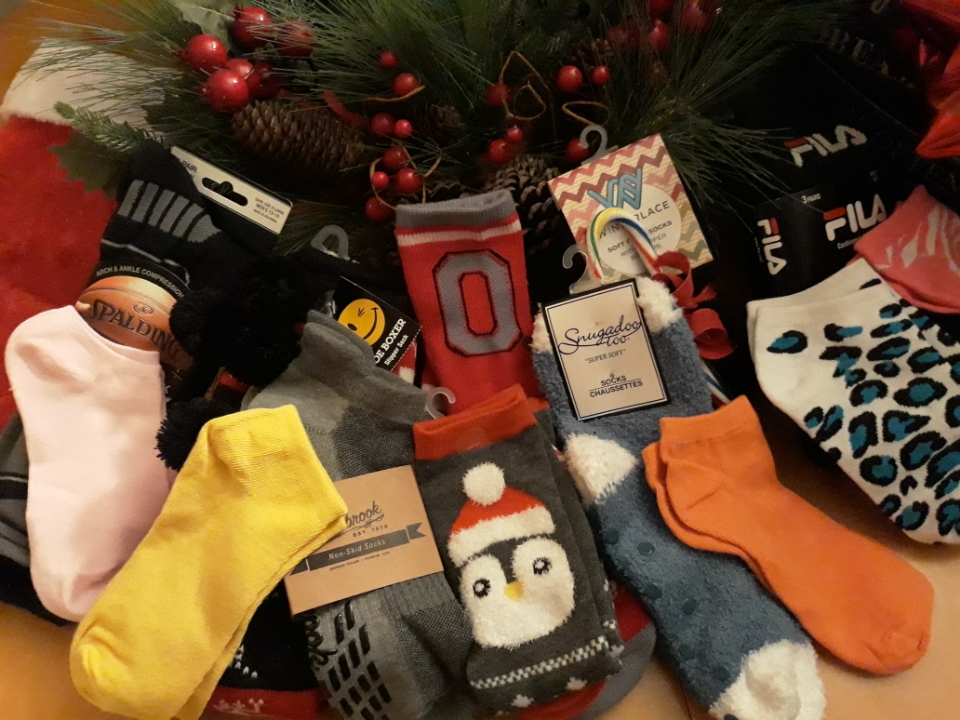 Through our donation drive – "Socks & Smiles Charity" – we raised over 1000 pairs of sock in 2020.  We are requesting "new socks" or monetary gifts to help purchase socks for families in local shelters.  If you care to donate, please select one of the options below.  Your "gift" is greatly appreciated.
Please select the button below to process your donation via Square.
Scan the QR Code below to donate money via Square.

You can also mail your donation directly to the address below.
The Greater Ohio Dental Hygienists' Society
P.O. Box 1424
Reynoldsburg, OH  43068
Get in Touch. Get Involved.
Address
P.O. Box #1424
Reynoldsburg, OH  43068